Robust with back support
Lightweight - Easy to Carry
No assembly required
Biodegradable
Sturdy - Can carry weights of up to 110kg (243 lbs.)
Durable - made from double wall corrugated 100% recyclable board
100% recyclable 
Irish Produced
Copyright 2017
Popchair® Registered as trademark 2018
Design protection with the European Intellectual Property Office
For information on licensing please contact info@thepopchair.com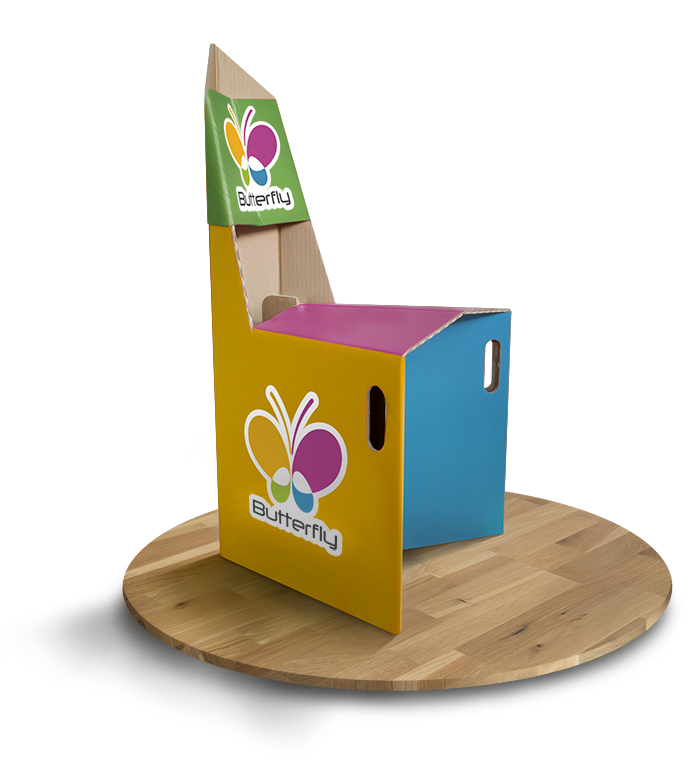 Chairs for festivals or events
The number of events where seating is not required but could be so useful.  For example, at any festival, concert, Papal visit.  The POP Chairs can be printed in any colour and or corporate branding, adding to the appeal. Not only is your business advertised at the event, but it continues to be so as the POP Chair is carried home and can be reused again and again.  
Chairs for exhibitions or conferences
Add an extra bit of interest, instead of the boring plastic conference chairs, you can have an colour, branded chair, easy to move around.  You can encourage mingling for brainstorming etc at any exhibition or conference event.   There are endless uses for the chairs. For information about the chairs for any event, please contact us and we'll be glad to advise you. For more photos of chairs, click here
Can carry weights of up to 100kg (243 lbs.)
 100% recyclable
 FSC-certified
No assembly required - Just Pop open !
 Can be partly or fully covered in digital print
Order Now
The chairs can be printed in any colour or corporate branding, which makes them extra eye-catching at events – an excellent reason for sponsors to put their logo on them. Event-goers often take the chairs home which keeps your branding visible well after the event.
Irish Examiner, 7th Nov 2020
Covid-19: "Outside learning can be a breath of fresh air for students" - read more »
John O'Louglin,
CEO Smurfit Kappa Ireland
"At Smurfit Kappa, we're always keen to identify sustainable alternatives to single-use plastics and this chair is the perfect solution for people who may need to sit down either on their way to or inside the Phoenix Park."
The Popchair 100 Hot Start-Ups, Sunday Business Post
"This portable Papal chair is a must-have for anyone attending the Pope's visit to Ireland" - read more »